Unhinged Episode #033: Don't be SAD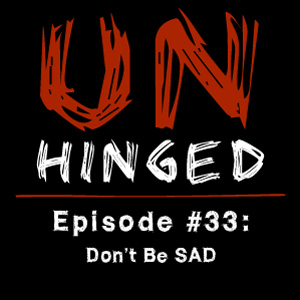 After a three-week hiatus, we're back just in time for the holiday season! These past three weeks have been very dark for Doug, but he's finally emerging from the shadows. With another tweak to his DBS settings, he has seen a shift from severe to moderate, which is definitely the direction he needs to go.
We start this episode with an update on his mood, and also talking about the successful GoFundMe campaign I started for Doug that raised nearly $2,500 (THANK YOU!). The good news continues with Doug's acceptance into the peer support program for the Mood Disorder Association of Ontario.
Next, we discuss Seasonal Affective Disorder (SAD), which is also known as winter depression, winter blues, or seasonal depression. As the holiday season arrives, SAD cases rise due to being exposed to less sunlight as the mornings start later and evening begins earlier during the winter season. And finally, we talk about some of the treatments available for SAD sufferers.
Podcast: Play in new window | Download (Duration: 1:11:47 — 164.3MB)
Show resources:
Share this post: