Unhinged Episode #008: TRD and Special Guest Nurit Adler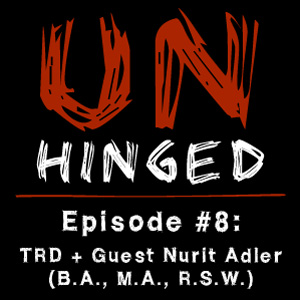 In our 8th episode, Doug discusses the details of Treatment Resistant Depression. What is it? Is it common? What treatment options are available? Having lived with TRD his whole life, Doug has researched and tried pretty much every treatment option out there, from drugs to electroshock, to DBS.
We also get an update on Doug's progress. It looks like his DBS is starting to kick in again. Will it last?
And finally, we welcome our very first special guest, clinical social worker and psychotherapist Nurit Adler. We discuss with her everything from TRD to family support to college kids struggling with depression.
Podcast: Play in new window | Download (Duration: 1:06:43 — 91.7MB)
Show resources: