Unhinged Episode #010: Money, Magic, & Murray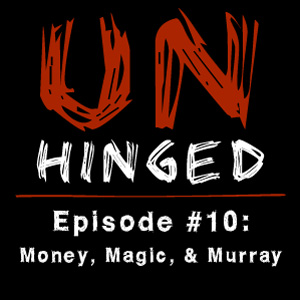 Another rocky start this week as Doug's money troubles due to being on disability nearly derailed the show. So we decided to discuss the issue as our opening topic. How does someone with a mental illness, who cannot work, survive on only $15k per year in a city where the poverty line is at nearly $20k? Hint: It's not easy.
We also welcome a very special guest to the show, hypnotherapist, motivational speaker, and magician Murray Goldsmith, who happens to be Doug's uncle. Besides entertaining audiences for decades with his stimulating and humorous talks, he has written books and held seminars on "The Power of Your Belief System". We discuss hypnotherapy, psychology, and even magic with Murray in a very entertaining and enlightening interview.
Podcast: Play in new window | Download (Duration: 1:04:13 — 88.2MB)
Show resources: