Unhinged Episode #012: Psychopharmacology and Pharmacogenetics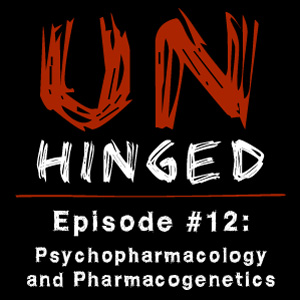 This week we talk about drugs and how genetics might play a part in how they affect different people. Doug , as part of an IMPACT study in pharmacogenetics, discovers he metabolizes slowly, so medicinal treatments need to be adjusted accordingly. We also discuss his battles with the Ministry of Health and drugs not covered by the Ontario Health Insurance Plan (OHIP).
Ed takes the Hamilton Depression Scale test (HAM-D) to measure his depression level. How does the supposedly "normal" half of the Unhinged team rate? Doug also covers helpful tools for depressive disorder, including diet, positive self-talk, journaling, and more.
And finally, we get a progress report on Doug's current state. What did he score on the HAM-D test?
Podcast: Play in new window | Download (Duration: 51:25 — 69.0MB)
Show resources: