Unhinged Episode #014: Texting Truths and Brain Facts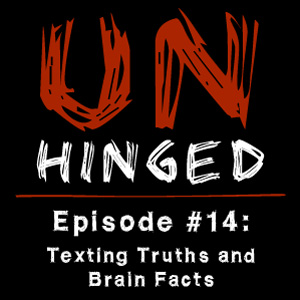 Another month's end, another situational downward turn. In our 14th episode, we discuss how living under the poverty line puts any mental illness recovery in danger. Doug's situation is no exception as he struggles to survive for eight days with a zero balance. We re-enact a texting conversation we had in preparation for the show that outlines just how negative, sarcastic, and angry one can get when control over normal, mundane things is lost.
On the lighter side, we present another round of interesting facts about the brain.
Podcast: Play in new window | Download (Duration: 38:35 — 51.8MB)
Show resources:
Share this post: