Unhinged Episode #018: Relapse Part 2 – The Call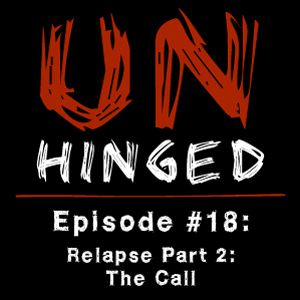 NOTE: This episode contains very strong language and disturbing subject matter. This is a real life documentation of a person in a desperate state, wanting his pain to end. Listener discretion is advised.
Since the 4th of July, Doug's mood has been steadily dropping, effectively ending his two-month remission from his treatment-resistant depression. On July 16th, he called me in a very low state to warn me that I should be prepared for the worst.
This episode is a recording of that phone call… totally raw, emotional, and unscripted. He was unaware that I was recording our conversation until I revealed that to him at the end of the call.
We then agreed that it would make a powerful episode to show just how this disease can bring someone to the brink of desperation.
We apologize for the length of this episode, but we felt we had to show the distorted thinking and circular discussions of someone in this state. We also apologize that the audio quality is not quite up to our standards, but since this was impromptu, Doug was not on his podcast mic at the time.
Podcast: Play in new window | Download (Duration: 1:21:30 — 109.3MB)
Share this post: