Unhinged Episode #029: Still Fighting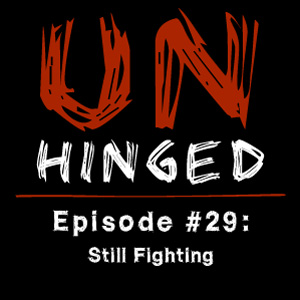 We welcome Doug back in this episode, but he's still fighting through severe depression and anxiety. Apparently, this time, he actually felt the trigger of his downturn. It occurred after a comment from someone he looks up to totally took the wind out of his sails. With Doug's delicate amygdala, any negative external stimuli can trigger a downward spiral, and that's exactly what happened.
Seeking help, he managed to get a quick appointment to have his DBS adjusted. The intensity of the current setting was turned up a notch, and now it's a waiting game. Unfortunately, relief could take days, months, or even years. Of course, we're hoping for days, since his last DBS adjustment seemed to work fairly quickly.
He's still hoping to become a peer support counselor, but he will have to slow things down a bit to avoid any possible negative triggers. In the meantime, he keeps fighting, but will take on fewer challenges at once… it's all about baby steps.
Podcast: Play in new window | Download (Duration: 51:31 — 118.0MB)
Show resources: