Unhinged Episode #046: I Just Want To Celebrate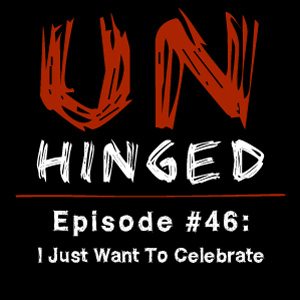 This week, we first discuss how Doug's mental state has improved and what he has been doing personally to make sure he can stay in a good place. This includes proper diet and supplements that help replenish the brain of important nutrients. His donated guitar has also helped bring music back into his life.
Yes, we return to the topic of music and music therapy as we each go on to list our top 10 favorite songs of all time. We go through each one and explain what it means to us, why it's on our list, and how it makes us feel. With Doug's great knowledge of musical artists and rock history, he even goes into some details about each artist, many of which had to deal with their own mental issues or dependencies.
We learn that many songs we discuss are rooted in past experiences, which is why we love to listen to them when times are good, but also why they can sometimes be hard to listen to when our mood is down.
Podcast: Play in new window | Download (Duration: 1:13:00 — 167.1MB)
Doug's Top 10 Songs:
Matte Kudesai by King Crimson
Let Go The Line by Max Webster
Wooden Ships by Crosby, Stills & Nash
Fantasy by Earth, Wind & Fire
Time by Pink Floyd
After the Love Has Gone by Earth, Wind & Fire
Hammer to Fall by Queen
Europa by Santana
Woman of the World by Michael Hedges
Still of the Night by Whitesnake
Ed's Top 10 Songs:
Shine On You Crazy Diamond (Part I-V) by Pink Floyd
Pride & Joy by Stevie Ray Vaughan
Cats in the Cradle by Harry Chapin
5:15 by The Who
I Just Want To Celebrate by Rare Earth
Aguas de Marco by Elis Regina & Antonio Carlos Jobim
With a Little Help From My Friends by Joe Cocker
25 Or 6 To 4 by Chicago
Wooden Ships by Crosby, Stills & Nash
Wish You Were Here by Pink Floyd
Share this post: