Unhinged Episode #050: We Are Finding Who We Are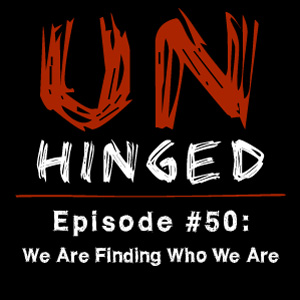 For our 50th episode, we start off with a clip of us singing the King's X song "We Are Finding Who We Are". In a way, it's very relevant to what our show is all about. We look to the unknown future, with pain we have yet to experience, but know is coming. Those challenges can be overcome with the help of others. No mountain is too big to climb if you do it together.
This is evident in the mere fact that we are on our 50th episode. It's a milestone that took us nearly a year and half, with many ups and downs, including a 5 month hiatus. But we keep coming back to record another episode. Why? Because we've heard from some of our listeners that our show has made them feel like they're not alone, that somehow we have provided just a little bit of comfort to a suffering mind. That gives us purpose, which is validating to both of us, but especially to Doug, who can turn his lifelong battle into something positive for other sufferers.
This is a journey for both of us… an exploration of our fears, wants, and needs. We don't have the answers, but we're discovering them along the way. We are finding who we are.
Forever is a mountain we've yet to climb
Tears are a part of what is yet to leave behind
Strength in numbers, all you need is two
Everyone's a winner, while still so many lose

The volume of emotion erupting in our souls
A quiet revelation quickly takes a hold
Patience is a virtue, but she won't always wait
Dissension is the tension, it's what we've learned to hate
Podcast: Play in new window | Download (Duration: 48:35 — 111.2MB)

Share this post: