Unhinged Episode #052: Undun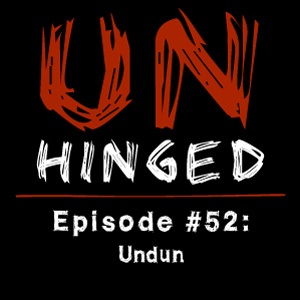 We start this episode with some interesting documentary suggestions and more discussions about curcumin, the wonder supplement. But more importantly, we welcome another special guest this week. In Episode #37, we talked to Doug's nephew Mitchell Drew. This week we welcome Mitchell's mother, and Doug's sister, Laurie Drew.
Listeners will know that Doug has recently started the healing process with his family. Laurie is a big part of that and she explains how it all went down. An open line of communication is the key to a healthy and loving family relationship, and now that the line has been opened, the healing can begin.
Laurie also gives us good insight into how Doug and his siblings grew up and how each dealt with their own challenges. We also discuss how this disease can take a toll on friends and family, especially back when much less was known about mental illness. Now it's about awareness and education. The more people know about it, the better equipped they become to interact with sufferers in non-damaging ways.
Podcast: Play in new window | Download (Duration: 58:31 — 134.0MB)
Show resources:
Share this post: