Unhinged Episode #053: Hey Brother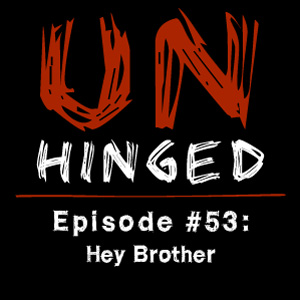 We're back for our final show of 2017 (we'll be back in January). This episode is a little bit different since the bulk of it is an actual recording of our typical pre-show planning discussion. Doug had mentioned in the past that we should probably start recording these talks, and this week that's just what I did. Since that conversation got pretty personal and fairly deep, we decided to just play it as the main topic of this week's show.
What follows below is a timeline of how the episode is structured. We start with a song clip and a discussion of the past two weeks. The full pre-show discussion starts nearly 19 minutes in.
0:00 – 00:57
Clip of original song "Hey Brother"
00:58 – 01:20
Unhinged Intro
01:21 – 18:55
We explain a bit about why we were absent for the last two weeks. Doug talks a bit about his struggles this holiday season so far, and we briefly chat about traumatic brain injuries in sports and the death of a UFC fighter.
18:56 – 01:07:02
Recording of pre-show discussion. This is the meat of this episode where Doug and I talk freely, usually to prepare the show for the day, but this time we discussed Doug's slight downturn in mood in the last two weeks. He starts the conversation in a pretty low state, upset about his lot in life and feeling insecure about his future. We go back and forth for a while on feelings, distortion, and socialization. The conversation gets interrupted by a call from Doug's sister. We ended our pre-show discussion after Doug talked to Laurie, and at that point recorded the opening to the this show.
01:07:03 – 01:08:25
I explain how Doug's mood had shifted noticeably after our discussion and his interaction with his sister. The social interaction had improved his general state greatly. This is good data.
The next day (Monday), Doug and I talked again and his turnaround was even more pronounced. He even admitted how he felt better after hearing his sister's voice the day before.
Podcast: Play in new window | Download (Duration: 1:08:26 — 156.7MB)
UPDATE:
We just posted an addendum to this episode! Check it out!

Share this post: