This is My Brain on Music – 'Broken Record Machine!'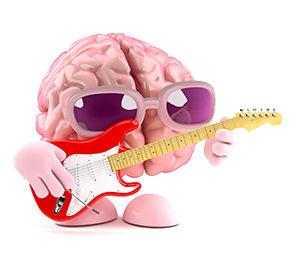 For as long as I can remember music has been my most constant companion. In fact, several weeks before I was born, my parents went to see a horrible musical adaptation of the 1933 book "Lost Horizon." Apparently I might have been the only one to enjoy this dog's breakfast of a flick (whilst still in utero, LOL!!) Not that I can actually remember any of this from nearly 45 years ago, but my mother told me many times throughout her life that 'I was really kicking up a storm on that fateful evening!' Both of my parents were immense music lovers, although my father's musical tastes oddly lent themselves more to his parents' generation. As my mother's musical leanings were slightly more hip, as a toddler we spent countless hours together listening to her records. We also spent an inordinate amount of time perfecting our very anachronistic versions of Elaine Benes' classic dry heave-inducing dance moves!!
As I grew older and my various issues moved to the foreground, music quickly became the one thing that I could truly rely on. I received a transistor radio for my seventh birthday, and this is when I first began to build my unbreakable bond with Rock and Roll. Artists such as Billy Joel, Rod Stewart, Queen and Elton John were some of my early favourites. As the years passed i gradually moved on to tape recorders, ghetto blasters, Walkmans, and Discmans; as the technology steadily evolved, so too did my musical evolution. As a teenager I became fascinated with Jazz-Fusion, Progressive Rock and Heavy Metal, all vastly UNDERRATED genres as far as I'm concerned!!! I think that I gravitated towards these genres the most because of their complexity and often interesting time signatures. Return To Forever, Jean-Luc Ponty, Allan Holdsworth and Herbie Hancock are among my preferences in this heady musical realm.
Throughout my twenties and thirties life presented me with a relentless series of difficult challenges (sick parents, stressful living conditions, unfulfilled self-expectations and an overall sense of general malaise.) During these emotionally-stressful times, building my musical collection became my primary goal/coping mechanism. While this might seem petty and pointless to many, FOR ME, it provided an essential reason to carry on living. To date my musical archive probably numbers close to 10,000 pieces, likely split evenly between cassettes and compact discs. As much as I enjoyed seeking out and collecting this TREASURE TROVE, the downside is the amount of physical space it takes up and the exorbitant storage fees which occur as a result!! Yes, I could perhaps make the switch to streaming and the like, but I am far too attached to the tactile physicality of my collection to ever even surrender an inch!! I guess we all have our own particular version of a sin tax! Mine won't kill me, but I just might eventually be found one day under a towering pile of musty 'n' mouldy CD booklets!!!
It's often said that people on the Spectrum can develop a very strong bond with music. I shudder to even think what my life would have been like if I had not gone down this melodic path. Sadly we seem to be living in a time in which popular music has basically been reduced to an endless AUTO-TUNED parade of Ikea-approved, FACELESS zeroes and ones!! Hopefully I will live long enough to see a return to a greater appreciation of/for legitimate musical talent, and that REAL/TRUE ARTISTS will receive both their Artistic and Commercial Due(s).
In closing, here are my 5 favorite songs about music:
"I Love Music" by the O'Jays
"Let There Be Rock" by AC/DC
"Long Live Rock" by The Who
"Magic Power" by Triumph
"Keep Playin' that Rock & Roll" by Edgar Winter's White Trash
Share this post: