We've put together an album of music we recorded over the last couple of years. We decided to let you DONATE whatever amount you want to get the full album (ten high-quality MP3s + album art). Use the donate button above! This donation goes directly to Doug to help him survive living below the poverty line with a disability. It's a struggle since he cannot work due to his condition, so every little bit helps!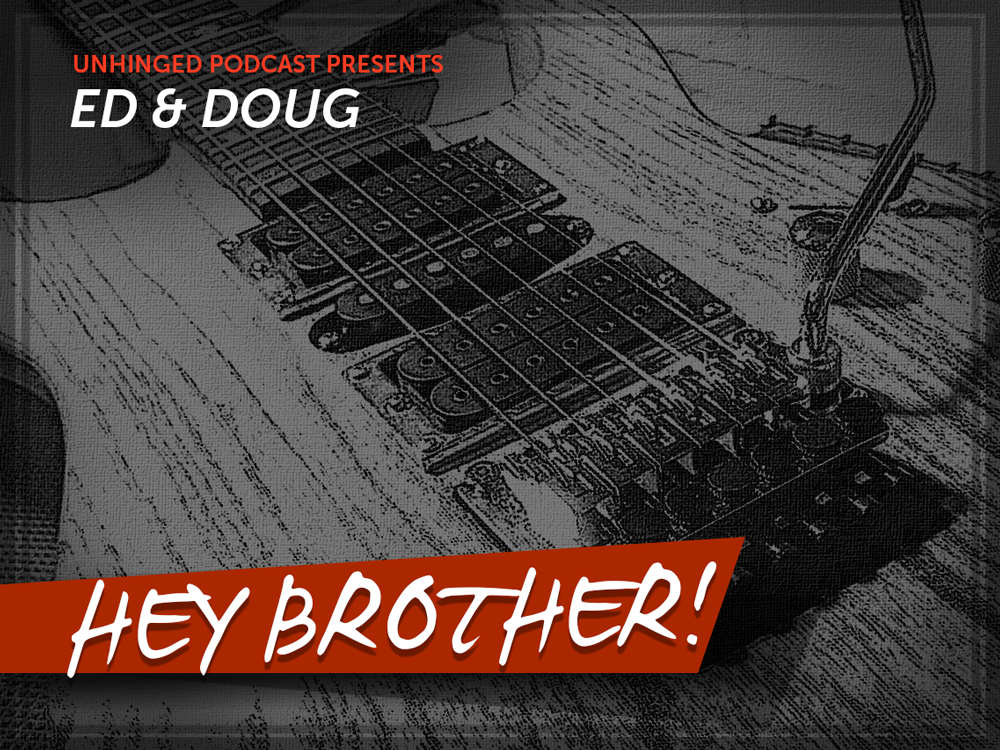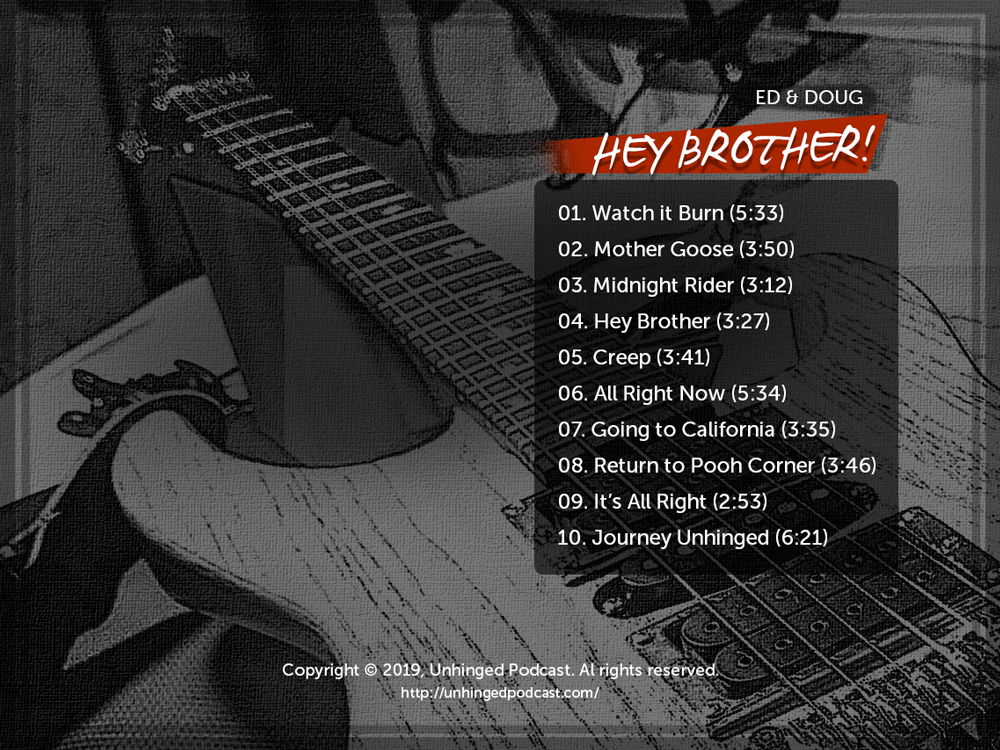 Doug is very talented, and at the very least, he can provide some entertaining music in exchange for donations. Have a look at the track list below, make a donation, and download some great music!
---
TRACK: #01
TITLE: Watch it Burn
WRITTEN BY: Ed Caggiani & Doug Warren
30-second sample:
NOTES: The rhythm guitar part was written by Ed while watching TV and just noodling around on the guitar. It was catchy enough to build a song around it. Doug came up with the slower middle break, which added a nice contrast. Ed wrote the lyrics, which alludes to the current divided state of the United States. Both being guitarists, this song included the extra challenge of keyboards, bongos, and other percussion.
---
TRACK: #02
TITLE: Mother Goose
WRITTEN BY: Ian Anderson/Jethro Tull
30-second sample:
NOTES: Doug and Ed are both big fans of Jethro Tull, so they decided to do a cover of one of their favorite Tull songs, Mother Goose. Interesting fact: This was Ed's first time playing with a capo on his guitar. A video of this performance can be seen here:
https://www.youtube.com/watch?v=MiN05_y2RT8
---
TRACK: #03
TITLE: Midnight Rider
WRITTEN BY: Gregg L. Allman / Robert Kim Payne
30-second sample:
NOTES: When thinking about what songs to record (as music therapy for Doug) Ed asked his wife Kris if she had any suggestions. This song came on and she suggested we do it since it seemed right in our range vocally, and something we could pull off. Doug's twangy lead guitar work on this song was a deviation for his style, but he managed to do the original justice.
---
TRACK: #04
TITLE: Hey Brother
WRITTEN BY: Ed Caggiani & Doug Warren
30-second sample:
NOTES: This song was primarily written by Ed, then recorded with Doug's additions and suggestions. The lyrical theme is similar to track #1 in that it deals with the current political climate of the day. Unhinged Episode #53 showcases this song:
http://unhingedpodcast.com/2017/12/19/unhinged-episode-053-hey-brother/
---
TRACK: #05
TITLE: Creep
WRITTEN BY: Radiohead
30-second sample:
NOTES: Recorded solely by Ed in San Jose, California (before his move to Colorado), this cover was done mostly as a test of Ed's home studio. It's a great song that Ed has always liked. The unusual part of this recording is the total lack of guitars. All the music was done on keyboards.
---
TRACK: #06
TITLE: All Right Now
WRITTEN BY: Andy Fraser / Paul Bernard Rodgers
30-second sample:
NOTES: This is the only song on this album where Doug sings the lead vocals. The sound Doug got on the main guitar riff was also so close to the original, we felt we had to record this. Musically, we love how this came out, though Doug still complains about his vocals (Ed thinks they sound great).
---
TRACK: #07
TITLE: Going to California
WRITTEN BY: Jimmy Page / Robert Plant
30-second sample:
NOTES: When Ed bought himself a cheap mandolin on eBay, he was looking for a song to learn and record that took advantage of the instrument. Being a huge Led Zeppelin fan, he originally started learning Battle of Evermore, but quickly realized how difficult the vocals were. He immediately abandoned that idea and moved on to Going to California, where the vocals were within reach. Ed recorded this entirely in his home studio in Loveland, Colorado.
---
TRACK: #08
TITLE: Return to Pooh Corner
WRITTEN BY: Kenny Loggins
30-second sample:
NOTES: Though this song was recorded solely by Ed, it was done with Doug in mind. Years ago, Doug taught Ed how to play this song, and he never forgot it. To this day, this song reminds him of Doug, and recording it was done as a tribute to their friendship. Unhinged Episode #20 showcases this song:
http://unhingedpodcast.com/2016/08/09/unhinged-episode-020-return-pooh-corner/
---
TRACK: #09
TITLE: It's All Right
WRITTEN BY: Curtis L Mayfield
30-second sample:
NOTES: Ed recorded this acapella version of this song just to see if he could. It's based off of a 1993 acapella version by Huey Lewis & The News, which is way better and more complex vocally than Ed's version, but it was still a fun experiment.
---
TRACK: #10
TITLE: Journey Unhinged
WRITTEN BY: Ed Caggiani and Doug Warren
30-second sample:
NOTES: This song was put together after one of Unhinged Podcast's very serious episodes, named The Call (Unhinged Episode #18:
http://unhingedpodcast.com/2016/07/26/unhinged-episode-018-relapse-part-2-call/
). It uses clips from that episode where Doug was so severely down and depressed that his statements were very dark and self-loathing. By the next episode (August 2, 2016), he had bounced back and things were looking much better. The song navigates the entire mental process of going into a deep, dark place, then coming out of it and seeing things in a new light. To this day, this is a very difficult song for either of us to listen to all the way through, but we feel it is a very important piece that can give hope to anyone suffering from mental illness.