Unhinged Episode #051: Rambunctious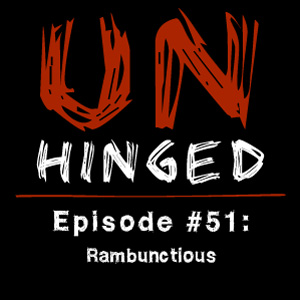 We start this episode with a short improvised jam we call "Rambunctious". The word popped into Doug's head while recording, so we decided to add a weird vocal track repeating the word, just for fun. Interestingly, in this episode we welcome back special guest Nurit Adler, our favorite psychotherapist and clinical social worker, and discuss Attention Deficit Disorder. You know, that thing the doctors say your "rambunctious" child has.
What Nurit is bringing to our attention is the problem of undiagnosed childhood A.D.D., which ultimately emerges as adult A.D.D., but only after having done other psychological damage along the way. When it's undiagnosed, it can lead to other mental issues, such as depression and anxiety, not to mention the toll it takes on one's self worth and confidence. Diagnosing early is key, but it's never too late to explore the possibility that it might be lurking inside. Nurit talks about how to look for patterns of behavior that point to A.D.D.
The idea of all this is to bring awareness to the issue so that ultimately more people will be diagnosed early. Early detection can save someone from a long life of suffering.
Podcast: Play in new window | Download (Duration: 47:55 — 109.7MB)
Show resources: